The Accra Mining Network (AMN) has taken its members through the new Mining Cadastre Administrative System (MCAS) introduced by the Ghana Minerals Commission.
The implementation of MCAS by the Minerals Commission seeks to improve and strengthen current levels of compliance checks and license administration procedures and practices as far as mining is concerned.
It is against this background that the AMN organized the workshop to sensitize the members on the need to take advantage of the MCAS.
Speaking at the program in Accra on Friday (July 1, 2022), the 1st Vice President of AMN, Mr.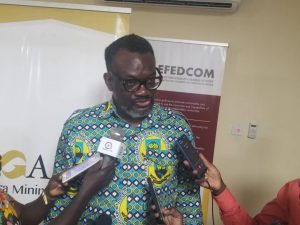 Raymond Kudzawu-D'Pherdd revealed that as part of their quarterly programs, the Network looks at new trends in the industry and expose the members to it.
"We normally have quarterly event where we gather our members and expose them to industry trends and see how best we can benefit from what ever we've learnt", Mr. Kudzawu-D'Pherdd emphasized.
He said the implementation of MCAS which forms the basis for the sensitization program would enable members of AMN to better appreciate the nuances of it and seamlessly upload information onto the system.
The 1st Vice President added that members have to know the MCAS to be able to write a report or apply for even a permit stressing that "so the MCAS gives our members free information".
He later said the Network is open to all professionals adding that Engineers, Geologists, Hydrologists, Lawyers and HRs among others are members of the AMN.
Mr Ernest Brakohiapa from the Minerals Commission elaborated that the MCAS is an online software deployed to manage and process mineral licences.
According to him, prior to the deployment of MCAS, applicants will have to come to the commission to present applications physically, but the commission has  digitalised the process to make it  easy as possible for any other person in and around Ghana.
Going forward, he said all applications submitted to the minerals commission for any services, be it mining, licences or support service licences are all done online.
He explained that applicants outside Accra can get access to this electronic service at Minerals Commission's district offices in all 16 regions, and other satellite offices.
He further warned that "anyone who deals with middle men for their online services, do so at their own risk.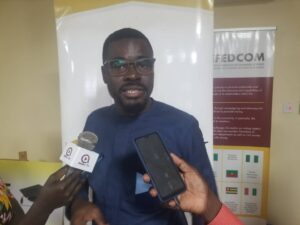 Throwing more light on the MCAS, a Mining Expert Ekow Bartels, revealed that with the MCAS, members of AMN can secure license from where ever they are located devoid of any human interface.
He explained that formalization [which forms part of the MCAS] is helping the Minerals Commission to identify mineable lands and help Small Scale Miners to explore more gold and also be able to reclaim the land.
"As part of it we will do the prospecting ourselves and make sure we give them only lands that have gold", Mr. Bartels disclosed. He later advised stakeholders to allow the system to work in order for the formalization to achieve its desired objectives. According to him, government is committed to assist the small scale miners to purchase machines for their operations.
He revealed that, prospecting is one of the process that determined whether there are gold on a particular land or not saying, a Fund has been secured from the World Bank to carry out prospecting activities to know where miners can mine for gold.
Mr. Bartels further hinted that, lands are distributed to the small scale mining companies after embarking on prospecting to locate gold. He revealed that, government has ordered for the covering of all mining lands that have been left uncovered
The Minister of Lands and Natural Resources, Mr. Samuel Abu Jinapor, has presented 95 signed mining licences to members of the Ghana National Association of Small-Scale Miners.
Source: SENA Radio